The
Bakersfield Meditation Society
offers
free
classes in Buddhist meditation, mysticism, reincarnation, karma, personal power and Enlightenment. Beginners are always welcome! A spiritual topic, meditation instruction and short meditation are included in each class.


All classes are
Free
and there is a
Free Meditation Music CD
for all who attend!
Greenacres Community Center

2014 Calloway Dr. (between Holland St. and Enger St.)

Bakersfield, CA


Every Other Wednesday Night, 7:15-8:15 pm

October 29
November 12, 26
December 10, 24


Book Club - The Gospel of Sri Ramakrishna

We are reading
The Gospel of Sri Ramakrishna
. Sri Ramakrishna was an enlightened teacher who attained enlightenment through the Path of Love or Bhakti Yoga. The book club is
not
held at the Greenacres Community Center. Meetings are held every other Sunday from 12:30 pm - 2 pm. Email info@bakemed.com for dates and directions.


The biography of Rama - Dr. Frederick Lenz!
Free copies for those who attend.
Limited supply
.

Rama: Gaze in My Direction
by Liz Lewinson. The biography of Rama - Dr. Frederick Lenz, American Buddhist teacher, reveals doorways to worlds of luminosity and inner change.

Bakersfield Meditation Society Calendar 2014

Class Dates, Rama quotes, equinoxes/solstices, lunar events and much more.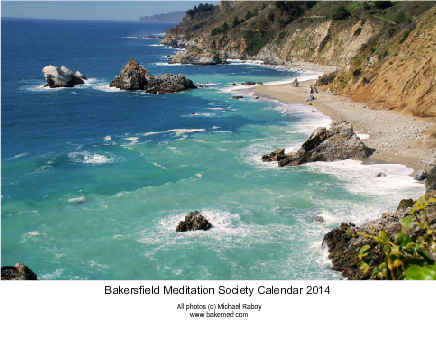 Free Spiritual Talks
!
Listen to/download over 100
amazing
spiritual talks by Rama - Dr. Frederick Lenz for
free
.


Free
Spiritual Teachings at
RamaQuotes
.

Questions? Contact Mike at
info@bakemed.com